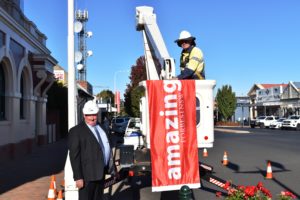 Thirty-two flags designed with the 'amazing' brand were installed last week as part of council's brand-led marketing activity.
Mayor Graeme Miller said the flags would help promote the Shire's new destination brand to locals and visitors alike.
"Council adopted the 'amazing' brand last year and while it is being used quite well online, there is still much to be done to raise the awareness of our new brand.
"Placing our brand on flags in our town's centre will help to create awareness and continue conversations around 'amazing' Forbes," said Graeme.
"The 'amazing' brand represents Forbes, its rich agricultural sectors, its strong and connected community, our Shire's key lifestyle attributes and rich natural resources."
"The strength of the 'amazing' brand will help to promote Forbes as a place to visit, live and invest in", said Graeme.
"Council is currently developing print, digital and highway signage materials to help promote Forbes. A new printed guide designed to attract visitors and inspire relocation and investment in Forbes is in development along with a new destination website," he said.
Graeme added that "hot-off-the-press" are bumper stickers promoting 'amazing' Forbes. Residents are urged to collect a bumper sticker from the council or the Visitor Information Centre.
"I've got one on my car already! 'amazing' Forbes travels with me whereever I go and at every chance I love to promote our town," said Graeme.