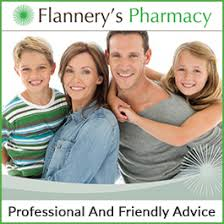 With Autumn upon us and influenza vaccinations arriving in the next few weeks it is time to think about protecting yourself and those closest to you.
In 2018, we saw a record 11 million Australians vaccinated against the flu, nearly a third more than during 2017. Pharmacies were recently acknowledged by the Minister for Health, Greg Hunt as playing a large role in the dramatic expansion of herd immunity against influenza as he quoted a 90 percent reduction in deaths from flu during 2018 in comparison to 2017.
The Chief Medical Officer states that annual vaccination is important as the virus changes each year. He recommends that we begin immunisations in mid-April to allow people to develop immunity in time for the flu season while also providing coverage right through the peak winter months.
Tracey Edwards, Pharmacist in Charge at Flannery's Pharmacy states: "We are proud of the role we play by providing readily accessible vaccinations to ensure the health of the whole community of Forbes."
"This year we have expanded our services and are able to immunise anyone older than 10 years of age with no appointment necessary. Drop in to either Flannery's or Life Pharmacies today and speak with our pharmacists and registered nurse about the importance of you and your family receiving your annual influenza vaccination," said Tracey.