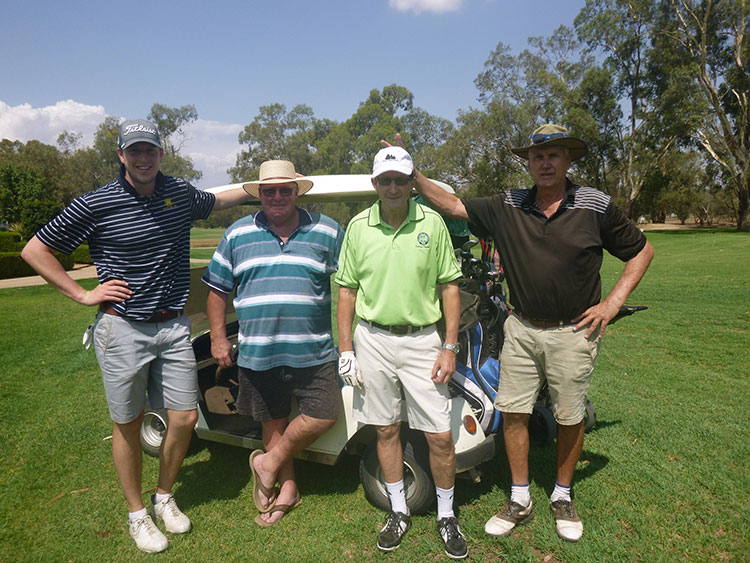 In the Annual 'Lefties vs Righties' Cup, an Individual Stableford 18-hole Stroke event played last Saturday by 73 players, Alf Davies came out on top with a score of 44 points. His scratch score was an even par 72 and earned him top honours in Division 2.
Runner-up in Division 2 was Phil Duke with 40 points, but this was on count back from Doug Churchill. Division 1 was won by Garry Collits with 38 points, ahead of Les Little on 37 points.
The visitors seemed to enjoy themselves, with Will Clayton (Bowral) scoring 36 points and Matt Donohoe (Royal Sydney) dropping a few good putts in.
The 'Righties vs Lefties' Cup was won by the Righties. Despite an inspired performance by Leftie Alf Davies, the Righties were consistent overall. Scoring by weighted average top-6, equal numbers had the Righties as winners.
Looking back over the results for events played across the festive season we see some familiar names:
The 18-hole stroke event on 11th January had a strong field despite the hot conditions. For Division 1, Jacob Bernadi (70 nett) won on count back from Daryl McAuliffe, while in Division 2 Albie Callaghan (67) won ahead of Al Rees (70). The ball sweep went to 35 points on c/b.
The 2P-2Club Australian Championship scheduled for 25th January has been postponed until 15th February. Golf on this weekend, Saturday 25th January will be an 18-Hole Stableford, with Stableford Medley's on Sunday and Monday, the Australia Day Holiday.
By Short Putt