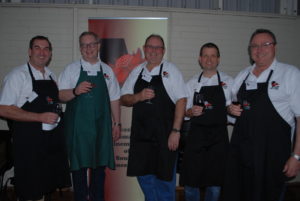 The wine flowed at the Forbes Youth and Community Centre last Friday, as fans strolled around the room in search of the perfect glass of vino.
The NSW Small Winemakers Wine Show public tasting featured an outstanding selection of the award-winning wines as well as the other wines entered into the show for the crowd to enjoy, along with finger foods.
President of the Wine Show Mark Watts said: "We get around 120 people on the public tasting night and they get to try really good boutique type wines. Some of the wines here have won awards overseas."
The Wine Show awarded 16 trophies, 25 gold medals, 56 silver medals and 142 bronze medals in this year's competition. In an unprecedented event, Rosé has been the second biggest class this year and won the best boutique wine at the show.
The show still has three members on the committee that started it 26 years ago. The show was started in what is not a traditional wine making region.
"According to our head judge the show is held in Forbes because of passionate people that want to put on a wine show, it's neutral ground and we have no problem getting top quality judges," said Mark.
The show also introduced a new electronic system this year by receiving all entries online and the judging was done using iPads. This saved a lot of time by eliminating transposing of numbers and expediting the result calculation.
By Gizell van Wyk