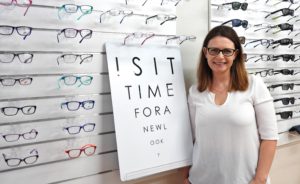 Fiona Hayward, Owner/Manager of Eyewear Specs, opened the doors at 95 Rankin Street in February 2016. "It is so wonderful to see people wearing our glasses and loving them," said Fiona. "Word of mouth has been a large part of our business success." It has been so successful that they will be expanding the business to employ a graduate optometrist in the future.
Eyewear Specs also doubles as a mobile optometrist. "We basically pack up shop and move to a location where we're needed," said Fiona. "We have worked from Jemalong Residential Village, and travelled to Condobolin, Grenfell, Parkes and Eugowra. We will be working in Canowindra soon following a community request, and we also offer a school screening service." "Eye care is very important and it is essential that people have their eyes tested every two years. Here at Eyewear Specs there is no cost to you for an eye examination as we Bulk Bill all testing with a valid Medicare Card."
According to Fiona they offer up to 260 different eye frames and all stock is rotated every three months so you can be sure to pick an individual frame. "We also offer two pairs of glasses for the price of one." The most popular brand for children and adults are Flexon/Nike. "To see what these glasses can do is nothing but extraordinary. They are made of titanium so they are ultra-strong and flexible," said Fiona. "That is why they are perfect for children and any form of rural and manufacturing work.
"Please come and see us to have your eyes tested and we will tailor a pair of glasses to suit your individual financial budget." Fiona said they also worked with Vision Care and Aboriginal Support.