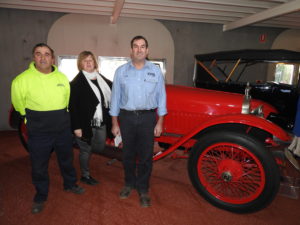 The seventh annual Forbes Motor Show on Sunday, 1st October has an impressive lineup with something to suit everyone's taste.
There will be bikes, cars, vintage machinery, trucks and tractors, as well as antique machinery and model car displays.
The gates at South Circle Drive will open at 8am for registration and the show hours are 10am to 2pm.
The 33 categories this year include cars, bikes (with ladies categories), trucks, trac- Preparing for the Forbes Motor Show on 1st October are Barry Read & Jill Kay from McFeeter's Car Museum and Ian (Bart) Bartholomaeus from Midpro and President of the Forbes Motor Show. tors, antique machinery, veteran, vintage and almost anything else you can think of.
For the children there will be a jumping castle, tattoos, face painting and other activities, while food and drink stalls will help to keep hunger and thirst away.
Donations will be given to local Forbes charities and schools following the show. Entry is $2 for adults and $1 for children. Contact Jill on 6852 3001 or Bart on 0412 859 444 for further information.