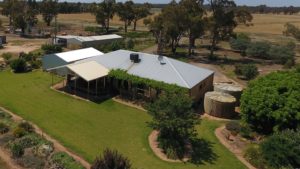 "River Dell" is undoubtedly one of those keenly sought after Forbes district properties. It is difficult to decide just which are its best features.
Is it the five bedroom homestead with its contemporary design, set in established gardens surrounded by mature trees and scrubs?
Or the quality of the associated infrastructure, sheds, yards and fencing? Or could it be the productiveness of the alluvial soils?
Perhaps, that there is just over 4km of Lachlan River frontage with a beach for launching a boat, fishing, picnicking or swimming? Or that "River Dell" is only 10km from Forbes?
Or is it that the property is on two separate titles one with the homestead and the other with dwelling approval?
If any or all of these features appeal to you please don't hesitate to contact us for information or come on one of our three Saturday open farm tours or arrange a private inspection at your convenience.