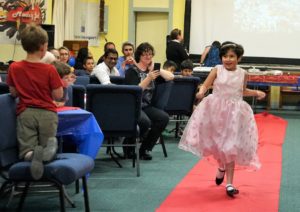 The Forbes Multicultural Group was astonished by the attendance of their Cambodian and Peruvian Multicultural Dinner hosted at the Forbes Anglican Church Hall last Saturday.
The more than 90 people who attended the evening were treated to Cambodian and Peruvian entertainment, cuisine and culture.
Local Cambodian designer, Nin Mao and business partner Nicky May showed off kids and adult fashions by putting together a fashion parade. Various models, including children, entertained guests with their confidence by "snapping" or "posing" in many different outfits.
Among the evening's guest artists was Socheata Mao, who performed breathtaking Cambodian dances and song, as well as the talented Hannah Dun from Parkes, who provided dinner entertainment.
Orange City Council Migrant Support Officer, Anni Gallagher said: "A huge thank you to everyone who attended and contributed to the wonderful Forbes Multicultural Group's Cambodian and Peruvian night. We were thrilled by the wonderful atmosphere that was created by the multicultural group and their setup enabled a colourful spectacle for the event."
"Multicultural groups are a good way to develop on-going connections and support in the community in each area. This often involves people coming together with shared cultural food, entertainment and sharing of their stories," said Anni.
The event was supported by the Forbes Shire Council and the church hall was offered free of charge by Rev Crystal Spindler.
The Forbes Multicultural Group endeavours to meet once per term for a morning tea and once a year for a larger community event.
By Gizell van Wyk