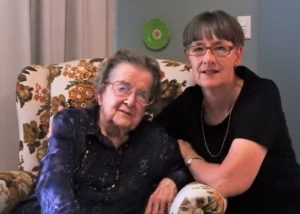 At 106 years young, Irene (Rene) Francis is not only the longest living resident in Forbes, but she also has an admirable story to tell.
When The Forbes Phoenix caught up with her this week she was knitting away with her daughter Marguerite at the Jemalong Residential Village for the Wrap with Love charity.
Rene was prepared with photos to share some of her proud moments. The first pho- to she took out was of her at 16 with her beloved violin. She gave up school to take up music professionally and played for a broadcasting station in Sydney prior to the establishment of the Australian Broadcasting Corporation (ABC). "We performed on air," recalls Rene. The announcer, Mr Corcoran, described her as "not quite as tall as my watch chain".
Rene's love of music lasted her whole life until hearing problems started interfer- ing. "Mum gave up playing the violin when she was 97. She was concerned her notes weren't being played correctly," said Mar- guerite, "However she played the piano un- til she was 101. When we think of Mum we think of music."
The next photo is of a debonair Rene and her husband, Arthur, after their mar- riage. They were married during the Great Depression. There was no fanfare and none was needed. They moved to Forbes in 1936 from Sydney. "I was fascinated by the dust rolling like waves on the unsealed road driving into Forbes. I held my daughter Barbara up so she could see," said Rene.
Proudly displayed on Rene's wall is a certificate from the Bishop of Bathurst, presented on her 100th birthday, for her contribution as a scripture teacher, pianist and violinist.
Answering if there is any advice Rene can offer, she simply said: "No, I don't. All I can say is that I always do what I know to be right and it doesn't matter what anyone says. I thank the Lord every morning for looking after me."
By Dianne Collie