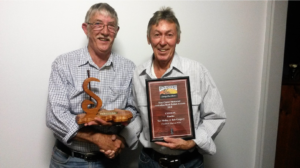 MORE AWARDS FOR NEV… Nev Molloy (right) has just arrived back from the Australian Traditional Awards at Bungendore and he's bringing home another award! Nev, alongside Bob Gregory (left) was awarded runner-up in the comedy section with a song that Nev wrote and Bob put the tune to called, I've Been Married Mate. Well done Nev!
Forbes Lions Car Boot Sale: The next Forbes and District Lions Club Car Boot Sale will be held on Saturday, 17th February in the Lions Park beside Lake Forbes from 8am until 1pm. This will be the first sale for 2018. Members of the community are welcome to set up stalls to sell their wares. Stalls of second hand goods as well as craft and produce stalls are catered for. Sites may be booked by phoning Peter on 0468 819 659 or Robyn on 6851 2209. The cost is $10. There is no charge to wander through the market. The Lions will be cooking up a storm with sausage sandwiches, bacon and egg sandwiches and the famous Lions sandwich for sale. There will also be tickets for a Hyundai car raffle. If you have thought of joining the Lions, give them a call to arrange for you to come along to one of their meetings or functions where you can see what they do. Phone Ray on 02 6852 2143 or email lionsclubs@ hotmail.com.
Catch of the Week winners: We have been receiving some great fishing photographs! Thank you for sending them in and please keep it coming! Che Che Bilog (September), Jeordy Carty (October) and Benjamin Legg (November) were our lucky winners. If you are a winner and have not yet done so, please collect your $25 voucher prize for Loomzy's Fish 'n' Fix in Forbes, from Kate Small at the Ian Simpson office and enjoy!
Apology: From the Publisher in relation to last week's Our Bloke column that may have offended some readers.
Eugowra Pony Club News: The club registration and first rally day for the year was held on Sunday, 4th February with five new children joining. Club Captain Bec, dedicated the day to superb instructing and activities for the children, with some of the new members quickly taking to being off the lead, which was very exciting for all involved.
The club is looking forward to holding the first gymkhana in Zone 11 for the year on Sunday, 18th March. Stay tuned to the Facebook page for a program and event updates. If you are interested in having your child join an active pony club, the next rally day is Sunday, 4th March and all are welcome to attend. For more information visit www.eugowraponyclub.com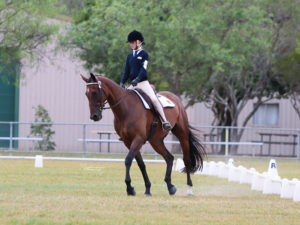 Eugowra Pony Club was proud to have Liv Holland represent the club at the recent PCANSW State Show Riding & Dressage Championships held at Clarendon from 28th to 31st January. Liv placed 5th in the Best Educated Hack and 9th in the Preliminary 1.2 Dressage Test. (Photo: Rodney's Photography)