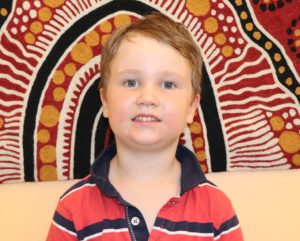 Ethan Thomas Brown
How old are you? Five years old.
How long have you lived in or around Forbes? I don't know.
Where do you go to school? Forbes Pre- School.
What do you love most about your school? Uhm… riding the fast bikes.
What is your favourite sport? Mostly cricket.
What is your favourite food? Frankfurts.
What do you do in your spare time? Go in the pool.
If you could have a super power what would it be? To throw fire.
What do you hope Santa brings you this year? I've got too much on my list… a big truck and I hope Santa gives me a Case Header, just one that's pretend.