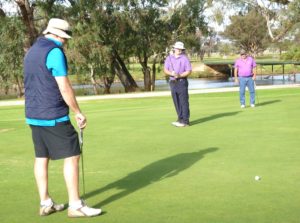 The Monthly Medal 18-hole stroke sponsored by Luke Hurford Painting was con- tested by 70 players last Saturday.
Visitor Daryl 'Digit' McAuliffee won the A- grade with a nett 70. Only two shots behind was Tim West, who got the runner-up prize on countback from a group of four others. He also got the medal for the best Forbes golfer.
The B-grade went to Warwick Judge, who compiled a tidy 69 nett. Finishing in second spot was Paul Kay, with 70 nett. The C- grade was a family affair. Don Ridley took the honours with 70 nett, ahead of John Ridley with his 73 nett.
The ball sweep went to 73 nett on count back, going to: 69 – W Judge; 70 – D McAu- liffe, D Ridley, P Kay; 71 – D Rhodes; 72 – T West, J Betland, P Dawson, T Callaghan, T Cogswell, B Everest; 73 – M Collits, S Betland, J Ridley, S Kirkman, B Collie, C Dwyer, B Shine and M Haley. The NTP's went to: 9th – M Collits; 18th – S Betland.
Unfortunately Ray Taylor's game was ruined early in his round. His 9 on the 4th hole comprised a few trips to the water, a bung chip and an errant putter. Thankfully his driving was okay – driving of his cart that is.
A group of golfers ventured to the Young Open on Sunday. Our boys did not fare too well, however Dan Bayley got the NTP on the 5th, only to have his prize stolen by Kim Herbert.
Tomorrow is the 4BBB, sponsored by Forbes Livestock Agency, and on Sunday is the Forbes Open, sponsored by Golfie Hotel and Dan Newton Pro-Par Golf.
The Legends Pro-Am is on Friday, 19th May. Ladies, men and juniors are encouraged to participate with some legends pro- fessional golfers. We still need as many club players as we can.
A Winter Three's competition will com- mence on 22nd May and run to 28th August. Pick up a team nomination form from the Pro Shop. The Wallace Cup will start soon, ensure you have your name there.
By Short Putt